record STA 22 – for special heavy duty applications
The robust STA 22 automatic door is particularly suitable for special entrances and applications using heavy door leaves. Operator technology is particularly stable and reliable and has maintained its position successfully in the market for many years. The STA 22 automatic sliding door is the ideal solution for special heavy duty applications.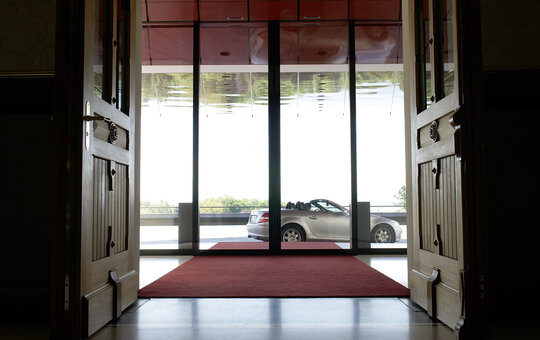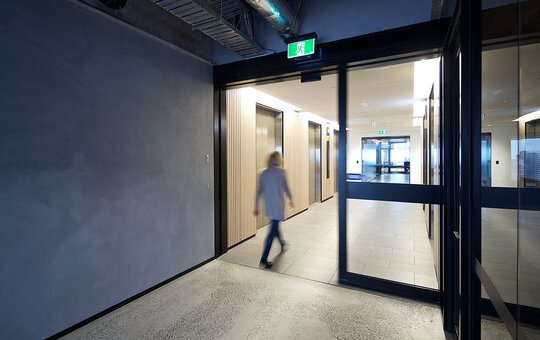 Our classic single or double leaf sliding doors can be found where automatic doors are usually fitted. They have opening widths of 800 to 3 000 mm and can accommodate door weights of up to 1 x 250 or 2 x 200 kilos.
Features
The record system 20 enables the construction of a vast range of door models. Designed using modular construction principles, it can be adapted to suit the widest range of conditions and yet is largely based on the same components. This shortens installation time and reduces service and maintenance costs.
The record system 20 fulfils 2006 / 42 /  EG industrial guidelines for machines, DIN 18650 as well as meeting all relevant national and international norms and standards.
Design
For the record system 20, there are 20 mm thick aluminium profiles available for 10 mm thick single glazed leaves, or 32 mm thick profiles suitable for 24 mm thick insulating glass to allow the greatest possible transparency. Even profiles of other manufacturers up to 65 mm can be fitted. Both profiles and drive unit cover can be anodized or powder-coated.
Drive unit heights for both the DUO and RED versions are available in 200 mm.
The drive unit can be fitted to the lintel, freestanding or integrated in the ceiling.
Mechanics
The absence of noise is the most striking feature of record automatic doors. Our combination of short, low-momentum toothed belts, rollers made from hard-wearing, low-noise plastic, acoustically decoupled running tracks, guide pulley wheels with ball bearings and door leaf guides with specially developed guide profiles all contribute to an exceptionally quiet running door.
Our efforts to produce the quietest automatic doors possible can also be seen in their operation. They open and close exceptionally quietly, which is indicative of the highest precision and the perfect matching of materials; this precision engineering can also be seen in the harmonious sequence of door leaf movements.
Electronics
The record system 20 components can communicate with one another interactively, which, among other things, enhances safety and security. The ability of drive, sensors and remote to communicate enables continuous monitoring of component status. The operational status of the door system and its individual electronic components also continuously undergo plausibility checks. Thanks to its learning capacity, the potential of the unit to malfunction is reduced to a minimum.