record HEI/HEA – manual unlocking
record automatic doors are constructed to the highest standards of safety and reliability. During power outages, however, any automatic door will cease to function if it has not been fitted with a battery pack to enable it to open or function in an emergency. In this case, your automatic door can be provided with mechanical unlocking using a robust Bowden cable, or, in the case of break-out installations, to allow the door leaves to swing open.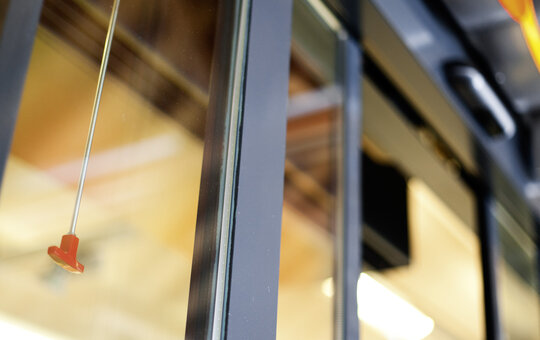 record provides several versions of mechanical unlocking in emergencies. For indoor applications, several easily recognizable emergency release buttons or handles are available.
In order to protect the emergency release from misuse, it can be fitted in a separate housing. A solid steel cover protects the housing not only visually, but can be fitted with a seal to further inhibit unauthorized use.
We can also fit a lock cylinder into the housing cover to enable the door to be unlocked in emergencies from outside.