record AIR 290 – infrared sensor
The record AIR 290 is an active infrared sensor that generates a narrow light curtain reaching to the floor. The opening impulse is triggered when an object enters the light curtain. This sensor is particularly suitable when only a small field of detection needs to be covered.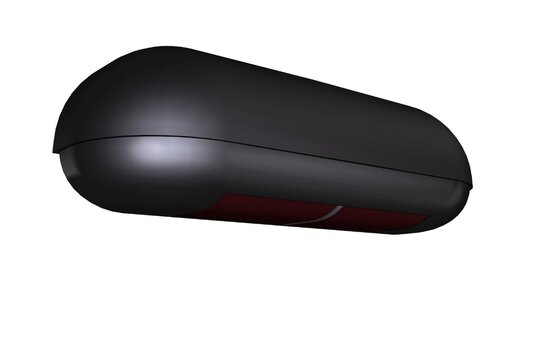 Our trigger devices cover a broad range of requirements. As a welcoming gesture to the public, the door should open early, whereas for other sorts of applications, people need to press a button.
Active-Infrared Light Curtain
The record AIR 290, with its active infrared light curtain, can be used in areas where the door needs to open at close range, without additional interaction by the user. A classic application where it is a must-have is in restaurants between the preparation area and the dining room. The sensor should not be triggered by the hustle and bustle in the kitchen, but, on the other hand, the staff does not have the time or free hand to trigger it manually.
The record AIR 290 opens the door only when a person enters the light curtain. The numerous configurable settings of the detection field enable the door to open swiftly and without delay, in spite of the short reaction time, thanks to our high-speed door drives. After the person has left the detection area, it closes quickly and quietly again. As a result, the noise level in guest area is reduced to a minimum.