record BLS 60 – Touchless switch for automated doors
Bacteria and viruses are mainly transmitted through the hands. When the door handle turns into a germ spreader, this is a problem for companies, especially in the hygiene sector. On many everyday things like smartphones, shopping carts, light switches or door handles adhere to the unwelcome bacteria firmly. For hospitals, doctors' surgeries, restaurants as well as the food processing industry the touchless switch is the perfect solution. Are the hands occupied with carrying shopping bags, anything else or by typing a message on the smartphone, the approach to the switch is enough and and the automatic door open.
In addition to the simple operation of the door, the record BLS 60 is hygienic to use, as at no time the skin comes into contact with the object.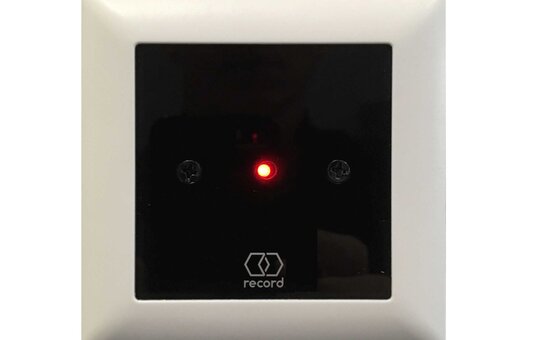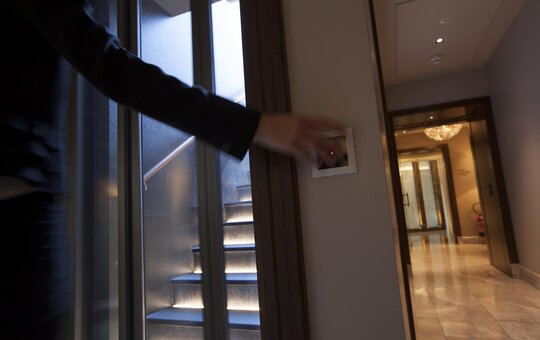 The BLS 60-REL can be easily and quickly installed in surface or flush-mounted versions of common switch systems. If the switch is wired to the door control and the desired detection range is set, it is al-ready operational.
The sensor is hidden behind the dark front panel (measuring 60 x 60 mm) and a red LED signals the triggering.
Applications
Increased hygienic requirements for the triggering of door openings in hospitals, e.g. surgical doors, medical laboratories and patient rooms.
Gesture control of automatic doors in residential care homes, also for people with limited mobility.
Automatic doors in sanitary areas are controlled to reduce the spread of germs and dangerous pathogens.
Intended door openings for service personnel between the guest area and the kitchen in restaurants or for employees in the food processing industry.
Features
Detection range is adjustable from 15 to 80 cm.
Potential-free relay changeover contact for controlling door operators.
Interchangeable front panel with application-related pictograms.