record CLEAN K1-A / K2-A – special doors for use in clean room conditions
The basic models in the record CLEAN series are the K1, a single leaf sliding door, and K2, with two leaves. A large range of materials are available for the door leaf core and surface finishes, as well as the design of the door frames and sealing system, enabling a wide field of applications.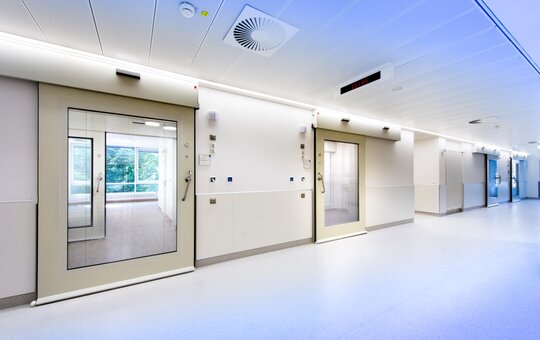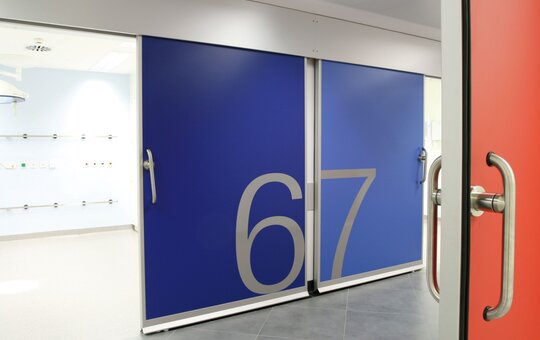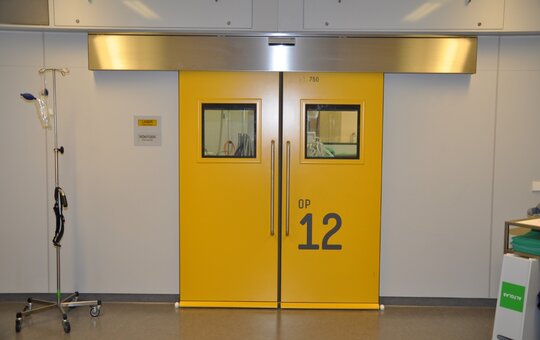 Operation
The hermetically tight closing doors roll on a track in the upper area, while the door leaf is guided at the bottom by three flat cams, fastened appropriately. The cams are rotatable both to reduce friction and minimize noise. Shortly before reaching the closed position, the door lowers on the track downward and toward the wall by a few millimeters, thereby exerting pressure on the door seals, which press against the sealing surfaces to produce the hermetic seal. Being flexible, the lower seal can to some extent compensate if the floor surface is not completely level and flat.
By building on the basic model, many variants for special applications can be created. Protection against electrons, X-rays and gamma rays can be provided with the addition of a full-surface lead insert in the door leaf, in the inside of the frame profiles as well as in the plinth itself. This radiation protection is available in lead equivalents of 0.5 mm increments, and the door is available as a single or double leaf sliding model.
Selectable features
Hermetically tight closing
Hygiene-friendly surfaces
Noise-dampening door leaf core
Radiation protection insert available in a range of lead equivalent values
Water resistant materials for use in damp areas
Smoke and fire protection function
Options
In addition to a variety of surface finishes and customized door leaf cores, the doors can also be fitted with various sizes of windows, integrated blinds and even laser protection according to requirements. Also, mechanical or electrical locks are available, as well as various models of cantilever-type handles.